TRAVEL
Time to make with Glamjoi
TRAVEL
Glamjoi, travel
To make your trip more special,
travel in Ganghwado Island.
TEAVEL #01
# Luge experience
Luge experience ― 25 minutes by car
It is a dynamic experience leisure sports facility that uses only the slope and gravity of the ground in a specially designed kit without a special power device.
Direction adjustment and braking are possible. It is an experience enjoyed by everyone, from children to adults.
The track is the largest in the East with a total of two courses (Ocean/Valley) of 1.8km/line.
The 360-degree rotation course, which doubles the interest and fun of each course, and the tunnels and falling sections arranged for each section,
It is considered one of the hands of Ganghwado Seaside Resort with an outstanding view that allows you to come down while looking at the sea.
travel guide +
TEAVEL #02
# Manisan mountain
Manisan mountain ― 30 minutes by car
Located in the middle of Baekdusan Mountain and Hallasan Mountain, it is the highest mountain in Ganghwado Island with an altitude of 469.4m.
When you reach the top, you can see the islands around Gyeonggiman Bay and Yeongjongdo Island at a glance. At the top of the mountain, there is a Chamseongdan Altar prepared by Dangun Wanggeom to perform ancestral rites.
Even now, rituals are held on National Foundation Day and the torch of the National Sports Festival is being lit.
There are many cultural sites nearby, so many tourists and hikers visit from spring to autumn.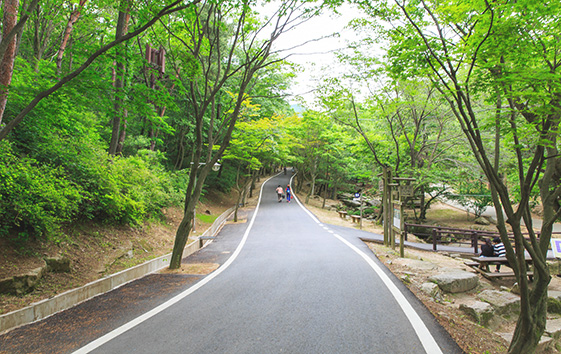 TEAVEL #03
# Bomunsa temple
Bomunsa temple ― 25 minutes by car
As a temple of the Silla period, it is one of the three major Gwaneum sacred sites in Korea as a directly managed temple of the Jogye Order of Korean Buddhism.
It is said to have been founded by Ambassador Hwajeong in the 4th year of Queen Seondeok (635) of Silla.
The 600-year-old juniper, designated as Incheon City Monument No. 17, has a subtle scent in the temple yard.
At dawn, the sound of waves in the sea in front of the temple and the statue of the Bodhisattva Maae Gwaneum on Eyebrow Rock are considered as one of the eight most scenic spots in Ganghwa.
travel guide +
TEAVEL #04
# Bunori dondae fort
Bunori dondae fort ― 35 minutes by car
Bunoridondae Fort is a defense facility stacked with soil or stone in the coastal area for the purpose of defending and observing foreign invasions or posterior activities in advance.
It is located at the end of the mountain ridge protruding to the coast. It was located in a topography that protrudes toward the sea and forms a cape.
The field of view is wide, and ports are formed around the deeply curved tidal flat on the left and right sides.
It is a famous spot for its beautiful sunset.
Currently, part of the battery that has turned into the sea has been destroyed, but 30% of the information on the outer wall has been successfully restored.
TEAVEL #05
# Ok-rabbit Spaceship center
Ok-rabbit Spaceship center ― 30 minutes by car
As a space science theme park planned on a site of 8,000 pyeong, you can experience space science, aviation, rockets, and aerospace experience facilities.
The Ok-Rabbit Spaceship Center consists of various exhibitions and amusement facilities, creating an ecological park with beautiful nature.
The main indoor space consists of four floors, and most of the exhibition halls are buried in inclined terrain, minimizing external exposure, creating a new terrain that connects to the existing terrain.
travel guide +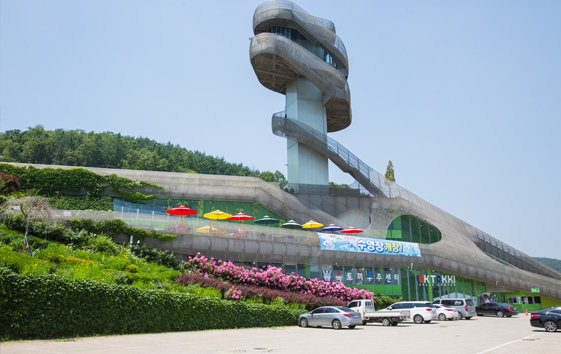 TEAVEL #06
# Jeondeungsa temple
Jeondeungsa temple ― 25 minutes by car
Jeondeungsa Temple, founded by Ado in 381 and called Jinjongsa Temple, was later contracted during the reign of King Chungsuk, King Chunghye, and King Chungjeong in the 27, 28, 30s of Goryeo.
It was reconstructed in 1625 and 1906, and was also reconstructed twice in Japanese colonial era.
Treasure No. 178, Daeungjeon Hall of Jeondeungsa Temple, Treasure No. 179, Yakjeon Hall of Jeondeungsa Temple, and Treasure No. 393, Beopjong of Jeondeungsa Temple.
In Daeungjeon Hall, 104 woodblocks of 《Myobeopyeonhwagyeong》, which was reorganized in 1544 at Jeongsusa Temple, are stored.
travel guide +